The so-called 'Boat Movie' as it came to be known was released in December of the same year and went on – for a time – to become the biggest worldwide box office hit of all time.
When the Academy Awards rolled around in 1998, the blockbuster Titanic' was considered to have one major competitor when it came to winning Best Picture. That movie was L.A. Confidential and was released on this date exactly twenty years ago. It is described on IMDB with the following: As corruption grows in 1950s LA, three policemen – one strait-laced, one brutal, and one sleazy – investigate a series of murders with their own brand of justice.
Wait! Twenty years? L.A. Confidential is twenty-years-old? It's very hard to believe.
Your Keeper remembers seeing it in January 1998, figuring it would be the real competition for Titanic (which does remain one of my favorite movies) when it came to winning awards. I had a basic idea as to what it was about, but was stunned when I saw the actor playing Bud White when I saw his very first scene – him glaring out the car window. I thought, Wait. I know that guy. He's the one who was in that Denzel Washington computer movie! Uh…Russell Crowe! I'd wondered what happened to him.
He-heh. Yeah, this is what happened to him.
Based on the 1990 James Ellroy novel of the same name, directed by Curtis Hanson, with a screenplay by Hanson and Brian Helgeland, and music composed by Jerry Goldsmith, the film starred Kevin Spacey (Seven, The Usual Suspects), a then "unknown" Russell Crowe, another "unknown" Guy Pearce, Kim Basinger, James Cromwell (Babe), Danny DeVito (Taxi, Ruthless People), and David Strathairn. It also featured another "unknown" Aussie, Simon Baker (later of The Mentalist) and Tomas Arana (Gladiator).
While it won only two of its' nine nominations (best-supporting actress Kim Basinger and Best Adapted Screenplay by Hanson and Helgeland), losing to Titanic in each other category, the film has been accorded other honors and awards.
It currently holds a 99% aggregate on Rotten Tomatoes.
Basinger tied with Titanic's Gloria Stuart for Basinger tied for the Screen Actors Guild's Outstanding Performance by a Female Actor in a Supporting Role – Motion Picture. Time magazine ranked it among the top ten movies of 1997. It was voted as the year's best film, Hanson as best director, and Hanson and Helgeland for best screenplay at the New York Film Critics Circle, while the Los Angeles Film Critics Association and the National Board of Review chose it for best picture of 1997. Because of this, L.A. Confidential – along with Schindler's List and The Social Network – are the only movies to sweep the so-called Big Four of the critics' awards. In 2008, it was voted by the Los Angeles Times as one of the best films about Los Angeles in the last 25 years, and in 2009, the London Film Critics' Circle voted it as one of the best films of the last 30 years!
The most recent honor came in 2015, when the United States Library of Congress selected the film for preservation in the National Film Registry, finding it "culturally, historically, or aesthetically significant".[1] (Movies also entered that year included the original Ghostbusters and Shawshank Redemption).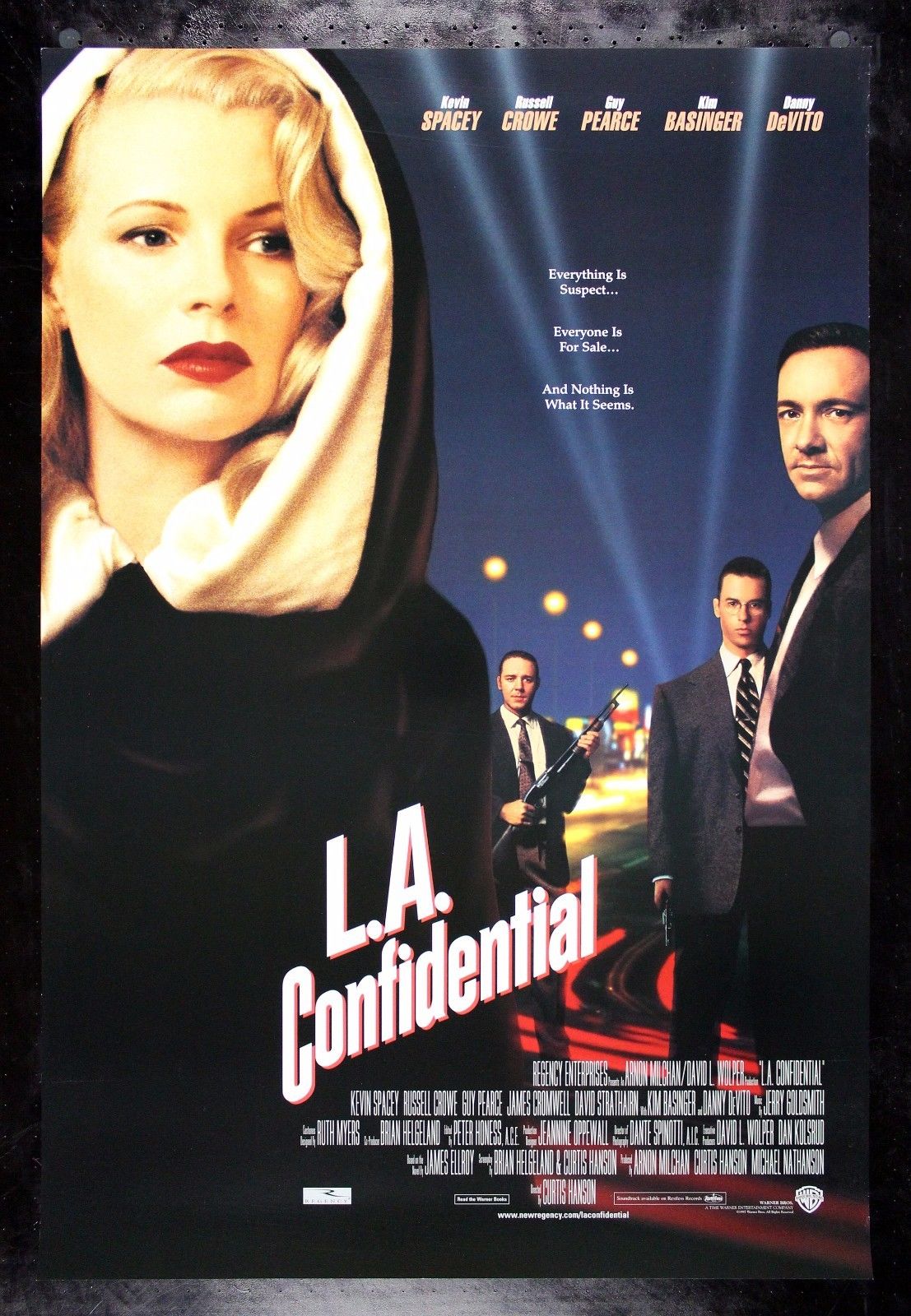 For a bit of a switch, we give you the trailer in Italian!
https://youtu.be/O8EfM3SBeXA