As I mentioned, since we've covered some of the background of The Fall of the Roman Empire in past posts, I thought it would be nice to celebrate its' anniversary with videos and screenshots. Especially if you don't have time to devote to a movie with a running time of 3 hours and 8 minutes. I also promise, I'll try not to mention Gladiator any more than I have to. *insert HUGE smiley face here* Pop some popcorn, get your drink of choice and enjoy.
Let's begin with the little over 4 minute trailer. You have to admit: it's epic, it's monumental, it's everything you think of when you think 'movie about the Roman Empire'. Did you know you'd undergo so many emotions?! Not 1 or 2 but 9 glorious performances?! A re-creation of such much action and drama?! Hey, that's what the trailer tells us. So let's find out!
Woo! Okay, the trailer's out of the way, so let's get to the heart of it. Pretty pictures! And movie posters – posters that have you thinking 'I must see this spectacle!' I…think.
Following all those will be videos…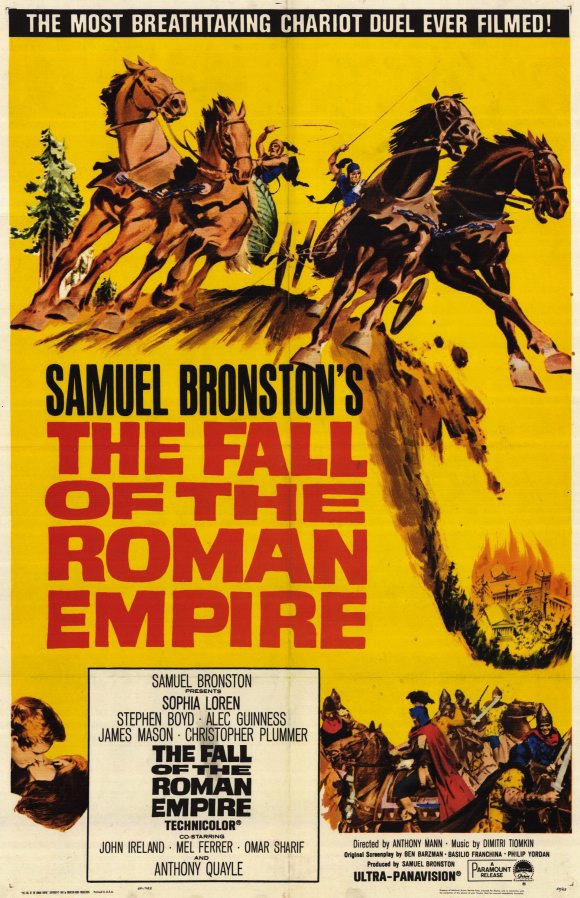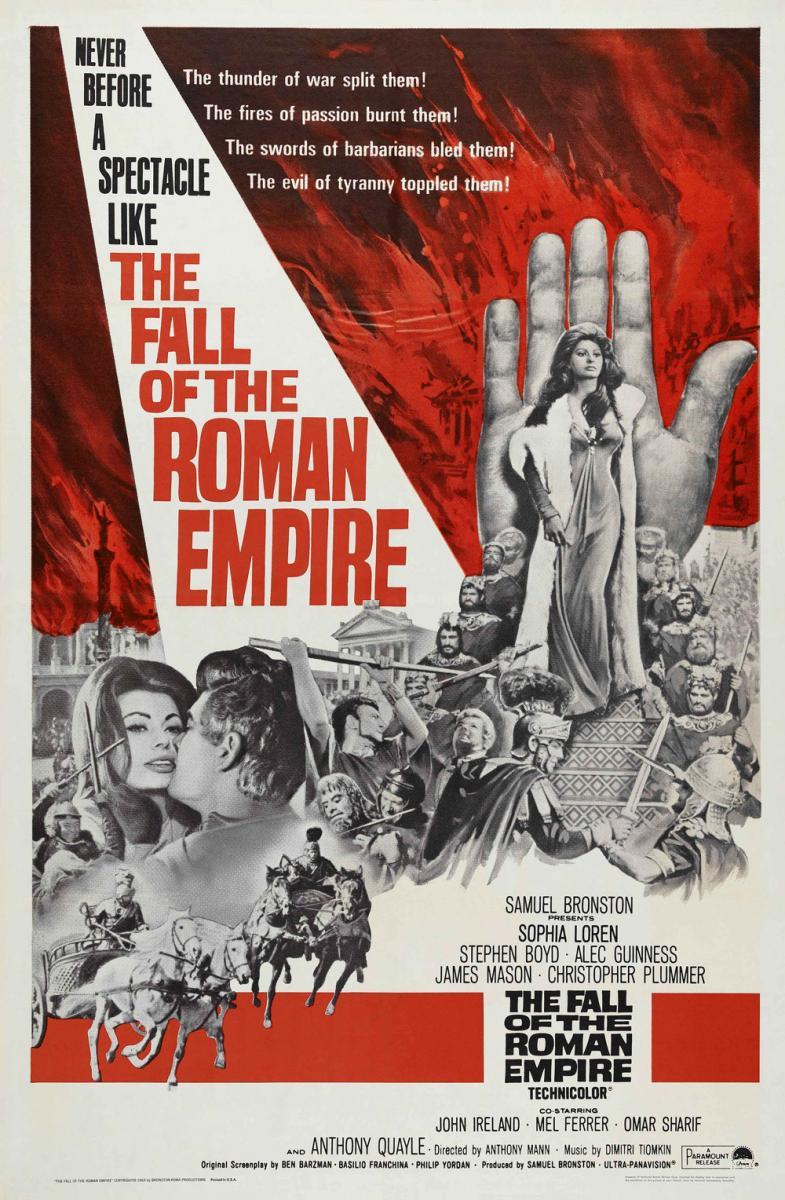 The opening titles with a score by the great Dimitri Tiomkin (of High Noon fame as well as one of the most recognizable of TV themes, Rawhide):
Alec Guinness' Marcus Aurelius and James Mason watch the dawning of a new day:
'A family of equal nations – that is what lies ahead'
A father-daughter moment: Alec Guinness' Marcus Aurelius and Sophia Loren's Lucilla. And the Emperor announces who his successor will be – and it's not Commodus!
Marcus Aurelius asks Death for more time:
Marcus Aurelius' funeral:
Sophia Loren's Lucilla and Stephen Boyd's Livius have their moments.

And as a lover of film costumes, seeing Loren in the scene made me think of Connie Nielsen in Gladiator as you see above.
Of course, she also shares a quiet moment with Maximus before everything sadly hits the fan.
Commodus' parade into Rome. This is friggin' amazing, especially when you consider this is not CGI!
Alright, I couldn't resist. As opposed to Joaquin Phoenix's sad entry into Rome in Gladiator:
The final scenes. This is from the description on YouTube –
"Uploaded on Jul 21, 2008
Anthony Mann is my new favorite director. Most of his films examine the exhausted hero. I re-edited the end of the film. It's a masterpiece of filmmaking…"