On this date, the movie Love in Limbo had its' Australian debut.
IMDB describes it as:
1950's. Gawky teenager Ken Riddle has a wealth of sexual knowledge, but has yet to lose his virginity. Ken is forced to join the workforce after he's thrown out of school for selling explicit drawings to students. At work Ken befriends the rowdy Barry and clashes with his uptight superior Arthur. Meanwhile, smooth ladies man Max Wiseman courts Ken's attractive and available mother Gwen. "
– Written by Woodyanders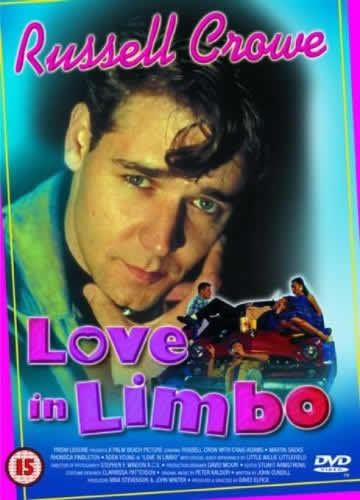 Despite the movie posters giving him top billing, and the one on the right featuring him prominently in the background, Russell Crowe's appearance as Arthur Baskin is actually somewhere around fifth place when it comes to the cast/character list in most references. This is another of those fascinating little movies Crowe made early in his career, which has now found a place in the hearts of many fans.
Love in Limbo was also nominated for three Australian Film Institute (AFI) awards (best achievement in sound; best achievement in production design, and best achievement in costume design)
A clip from the movie as well as an interview with Aden Young and Russell Crowe on the 'Midday with Ray Martin' show is at
https://youtu.be/Yk1E8-6Musw
. Watch for the moment around the 3:30 mark when the interviewer discusses with the two young actors how critics and opinion writers are offering comparisons to both of them and the likes of Brando, Mel Gibson, etc. (Remember that roughly five years later, Crowe was being called 'The Next' or 'The New' Brando after his appearance in
L.A. Confidential
!)